---
SRP Swing Trade and Market Forecasting Service
When do I buy?
When do I sell?
What should I buy?
What should I sell?
Do I take profits, or let it ride?
Should I buy more or take a loss?
Where do I place my stop loss?
What sectors should I be invested in?
Which sectors should I avoid?
Where is the market going?
We handle all of those worries for you daily… our Market Forecast models are stunning in their accuracy weeks in advance of tops and bottoms. When you combine our market roadmaps with our individual fundamental and technical analysis on our swing trades, its an amazing profit making combination!
3x ETF and Stock Trades for both Bull and Bear Cycles
Fundamentals and Technical's combined for stunning swing trading results
Morning pre market reports daily, SMS Text and Email for all buy and sell alerts, research on every position, charts updated regularly, guidance and education included!
---
 SRP Members on fire in June and July-   Our last 6 weeks of closed out trades (All included)
Two recent trades August 2017, 21% and 16% Gainers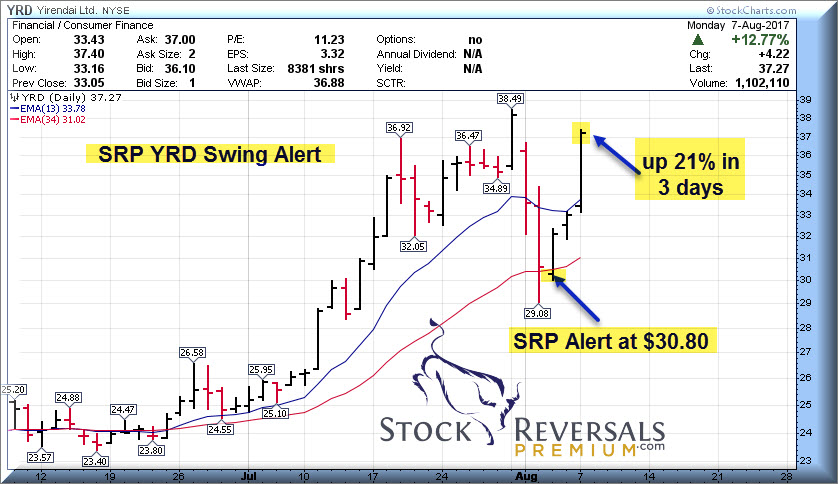 7/27- Stopped out final 1/2 NTNX for 13% gains
7/27- Stopped out final 1/2 LABU for 2-4% Gains
7/26- Sold 1/2 JD for 11% Gains
7/25- Sold Final 1/2 BIVV for 16% Gains
7/25- Sold Final 1/2 YY for 24% Gains
7/18- Sold 1/2 NTNX for 20% Gains
7/17- Sold 1/2 YY for 15-17% Gains
6/27- Stopped out CAMT for 10% Loss
6/27- Stopped out SINA for 5% Loss
6/26- Sold Final 1/2 Z for 12% Gains
6/23- Sold 1/2 TWLO for 15-17% Avg Gains
6/21- Sold 1/2 TWLO for 10-11% Gains
6/21- Sold 1/2 Z for 7% Gains
6/20- Sold final 1/2 LABU for 19% Gains
6/19- Sold 1/2 BIVV for 12% Gains
6/19- Sold 1/2 TWLO for 12% Gains
 ____________________________________________________________________
1st quarter 2017 81.5% success rate on closed out Trades. 31 winners, 7 losers… read more
"I really like what you're doing (and it's not just because you're on a hot streak right now).    I feel like you have the whole package – solid fundamental and technical expertise – combined with a very realistic grip on trading psychology." A.W. – Senior Vice President-Investments, Stifel-Nicolaus and Co. NYC 3/28/17- SRP Member
---
Quick Details: 
Click Categories below
Sample Alerts, Reports, Forecasts
---
Near 80% Profitable Swing Trades Track Record since 9/1/13 Inception for our Members
"I couldn't be happier with your services and professionalism. I'm blown away by your response time and even more so, how simple and easy you made this process. I continue to only speak the highest of SRP. You're great. Thanks again, Dave" . Steven- SRP Member 

Over 52,000 Active Traders follow us on Stocktwits.com, join here to find out why and profit!
Save time, think contrarian, improve your results,  profit, and learn to be a better trader!
---
"I've never had the luxury of experiencing this kind of performance with a service. I'm highly enthused about what the next few months may bring. Love all your updates through the day and week, feels like I always know what we are expecting, and it gives me nice sense of security that you always have your eye on the ball."
---
1-3 New Swing Trades per Week depending on market conditions

SMS Text, Email, and Full Post with details and research

for all positions

Specific Entry and Exit advice and alerts for all positions

Morning pre-market reports on Indexes, Positions, and Strategy planning daily

Stunningly accurate SP 500 and Gold forecasts updated daily
---
Hello Dave!
It's the second month since I joined your service and I really have no words for the quality and the great results of your research!My account has already increased but the important thing is how smoothly and with no stress at all this has been achieved!I consider myself a lifetime member and I will soon update to a yearly membership!
   I will definitely dedicate much more money to your recommendations because the quality is more than obvious and especially this week was awesome!!
    Just wanted to thank you for what you are doing!
Kind regards,
Bill  L.  SRP Member 7/15/2017
---
A recent May 2017 23% Gainer in a swing trade on TDOC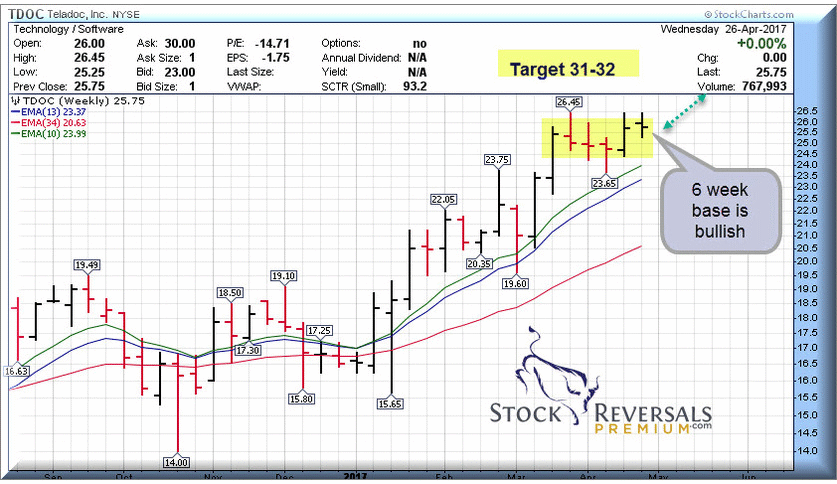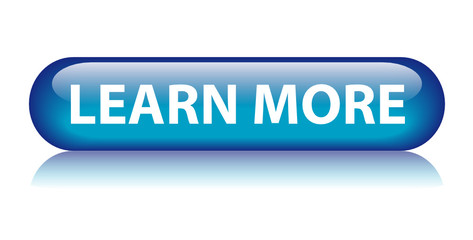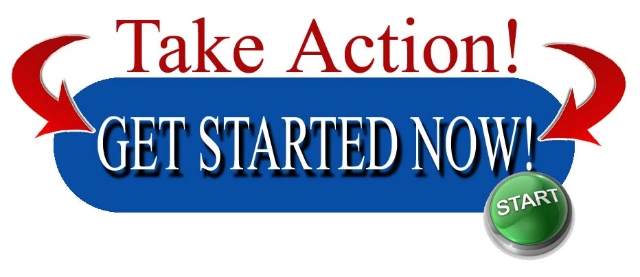 ---
Recent 10 day  34% Gain on Swing Trade FUEL in March:
We took profits with an Alert at $5.40 per share on April 9th
We combine Fundamental analysis with Technical analysis to produce big winners
We provide a full write-up post with analysis and trade parameters on every position
In all of 2016 and so far in 2017 we hit 77% of our Swing Trades for profits. Why? We have a discipline that requires both a combination of Technical and Fundamental analysis. We mix in some Elliott Wave and Fibonacci work, and contrarian views. Less risk, better performance, like nothing you have ever seen- Dave, Chief Strategist
"I am glad I am a subscriber. Your analysis gives me the confidence to invest more aggressively than I would on my own. I have blown away the markets averages for this year. Your analysis increases my odds. Thanks again!" SRP Member Nick H. 6/8/16
---