23 Dec

Tipping Point Stocks Membership Details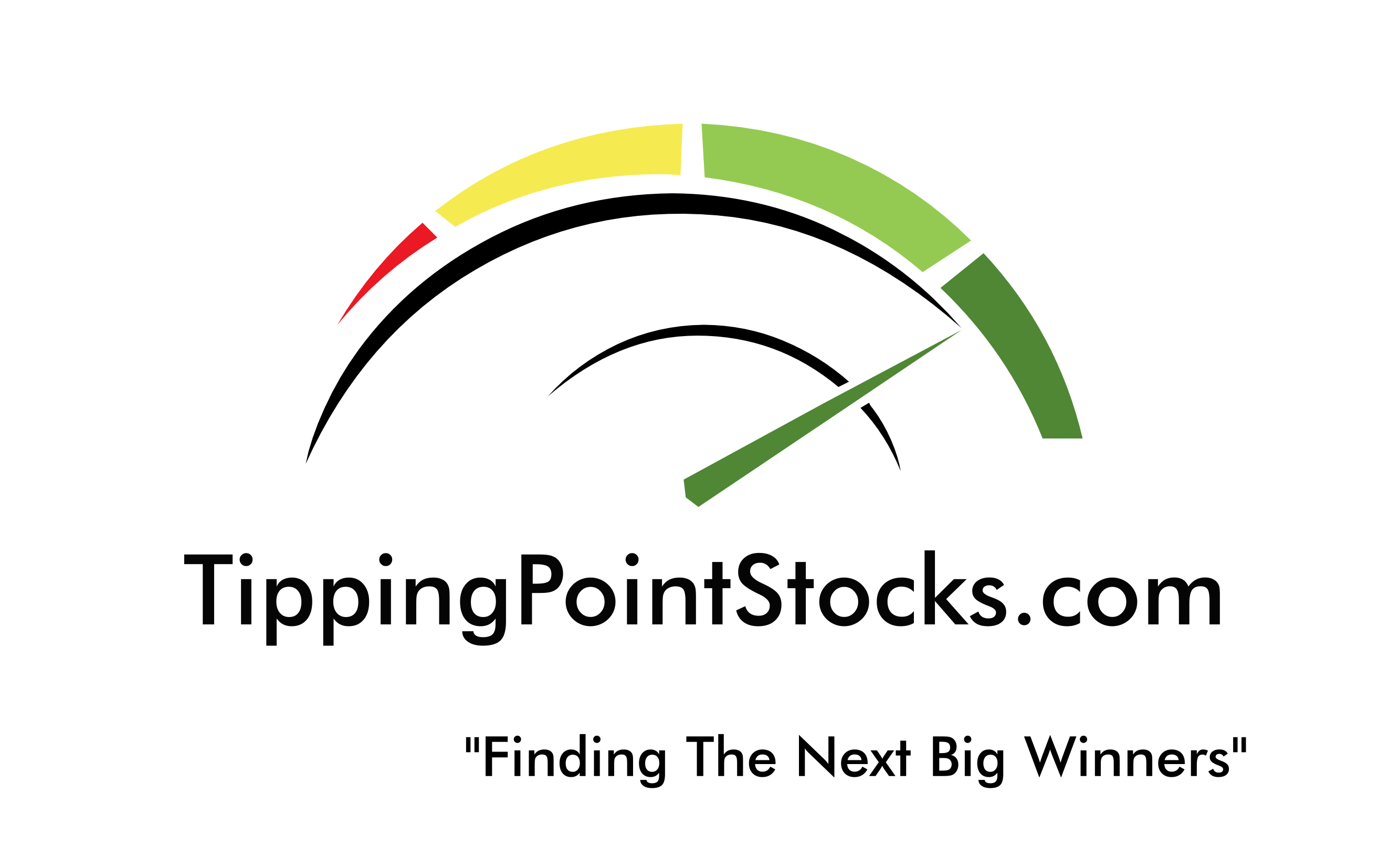 TippingPointStocks.com  launched on October 4th!
As you may or may not be aware, we are only taking 200 members. As of December 31st we are at 140 Members with 30 Joining in the past 8 days alone! New members are joining every week.  Once we hit 200 we will not take on new members.
We are limiting members so as to provide both good entry and exit as we build the portfolio and also take partial gains when we are up 50% or more on a position.
Tipping Point Stocks is designed to take our absolute best long term growth stock research work and uncover up to 15 or so individual growth companies over several months that we think can rise 50-200% over 6-18 months after our report.  We are looking for companies with a differentiating product or market advantage, a strong management team, good share structure, strong growth, and competitive moats around their business model.
We are looking for companies at a "Tipping Point" in their growth phase but as yet not appreciated or recognized by investors.
Stocks such as TTD, SHOP, STRP, and TDOC are good examples of a Tipping Point Stock. These are just a few of the companies we have written reports on early before explosive moves to the upside, 600% on STRP! 300% on SHOP, 85% on TDOC, and 130% on TTD.
In short, we are looking for what everyone else is not yet aware of at the time of our research, so we can get in on the ground floor of a potentially large move before it's obvious.
This is not a swing trade service but rather a service that will highlight one company report at a time until we get to 15 names.  Updates during the week as news develops or stocks move with advice ongoing and chart updates and notes as well as buy the dips or take some profits advice along the way.
We will be adding and removing companies from the TPS portfolio over time as well, ensuring our latest and best ideas are always being presented and profits are being taken as needed.
DECEMBER UPDATE:
Results on just two of the 6 Tipping Points Stocks profiled since the October 11th launch are a  121% move, a 57% move, and recently a 24% move in the early weeks on 3 of those  reports.  The holding period is 6-18 months, but as you can see we have already had early success.
Imagine: $10,000 into each Tipping Point stock in your long term account would have already profited by $7,800, $4,500, and $2,400 on those positions…all in a matter of WEEKS!  It doesn't have to be $10,000 in each position either, as little as $5,000 into each would have yielded ample returns to cover years of membership already, and we just launched in early October!
 Read on…
Here is a Cannabis Industry Tipping Point Stock, this is now up 121% in  8 weeks!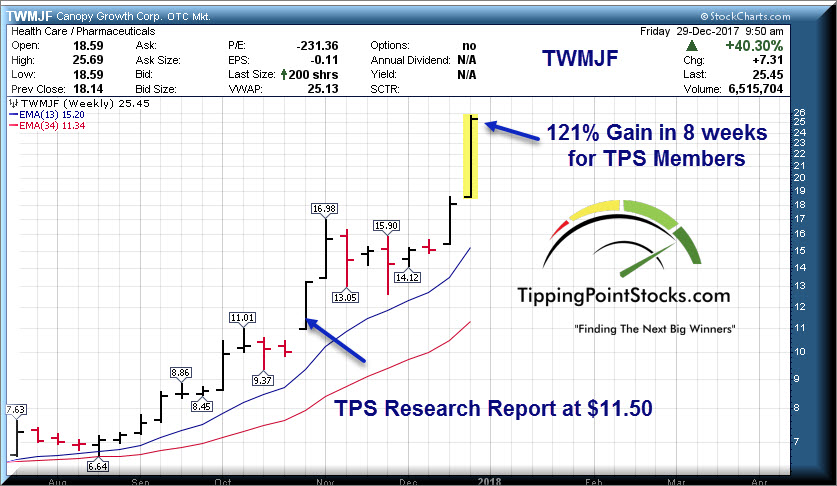 Our  2nd best TPS performer so far in our early 11 weeks since inception was up as much as 78% in 6 weeks, that would be Overstock.com. We had our TPS Members sell 1/3 their position recently to bank some gains. The stock continued higher to $82 days later for as much as 78% move of a $46 average entry!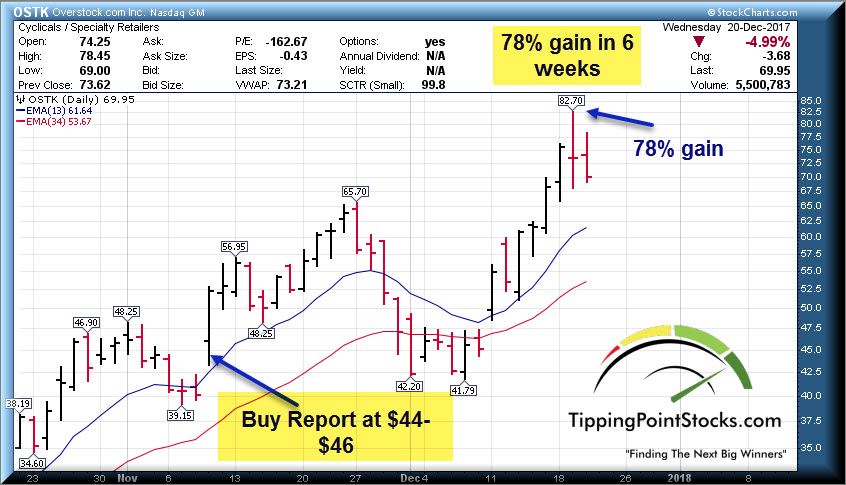 Are you ready for something different? Then sign up today!
Charter Member rates are $500 off or just $999, less than the $1,499 regular annual rate for early members in the service
Many other growth stock services charge $3,000, $4,000, even $5,000 per year!  We wanted  to make this affordable for our Members and available for investors to turn a profit.
Click the Rocket to launch your membership!
By joining, you'll get access to:
Dave, our Chief Strategist, is one of the top market forecasters in the world and has had a 77% winning trade success rate in the SRP Swing Trade service since September 2013 inception. Dave has 59,000 followers on Stocktwits.com and over 550 professionals in the investment industry follow him on Linked-In.
Our most exclusive stock ideas not shared with the public or even our SRP members
Proprietary research reports on each individual stock delivered with a full write up, charts and technical analysis, plus entry advice.
Email and SMS Text Message alerts for notifications on each research report and updates too!
Portfolio updates during the trading week delivered during market hours with updates on news, developments, and chart patterns, with Dave's notes on each.
Chart updates on positions periodically with notations from Dave. 
What others have to say about Dave's work at  TPS already: 
"Just wanted to say that I am glad to finally be a member of your Tipping Point stocks service! I have been member of Stock Reversals for quite a while but I was a little reluctant to join Tipping Point because of the price. But the free information you have put out recently on OSTK and MARK has more than paid for the 1 year membership, much appreciated!  And based on your recent tweets, sounds like I am not the only one that is convinced 😉  Anyway congrats and I really look forward to being a member!  Happy Holidays!"   — Dan
"Your service has been awesome. Thank you for all you do!  I've made a ton of money using you guys." — Scott 
"Hi Dave, Just wanted to say this.. when the report was released on MARK, I went through the most part of the report and I was reading about Kankan in the report. Immediate next day there was a PR regarding Kankan from MARK. That was just amazing and timing! I am glad I joined TPS. Thank you, Deepak."
---
We hope to see you as a member soon! Join before it's too late…you will love it!