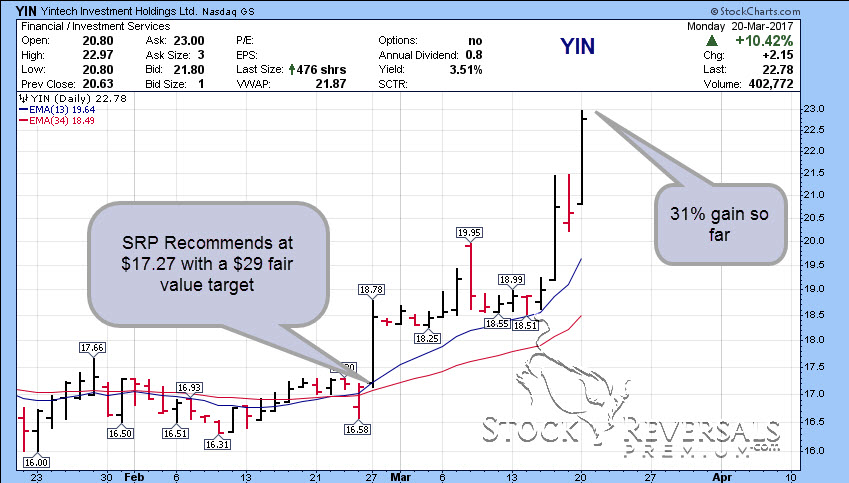 27 Feb

Swing Trade Alert- YIN 10% Position Size
Editors Note: This swing trade was up 31% within 3 weeks of the alert
YIN- Yintech Holdings- Near $17.25
10% Position Size- Fair Business value $25-$29, Target is $21 plus
A play on the Precious metals and commodities Bull and China
Yintech Investment Holdings Ltd. engages in the provision of online spot commodity trading services. It facilitates the trading by individual customers of silver, gold, and other precious metals and commodities on Shanghai Gold Exchange, Tianjin Precious Metals Exchange, and Guangdong Precious Metals Exchange.
Shares O/S 68 Million, only 17 Million floating ADS shares from 2016 IPO
190mm cash, no debt
PE Ratio less than 8, recent growth in 3rd quarter 2016 was 65% year over year in earnings per share or 58 cents US.
At a 4x run rate that is 2.32 per share, the stock trades at a PE ratio of 7.3x run rate of earnings!
A move to 10x earnings would push the stock to $23 per share.
Subtract out the $3 in cash per share and the stock trades at 5.8x earnings!
Fair value of business is closer to 25-29 in our opinion counting cash and a 10x PE ratio
Guidance Raised PR (Jan 2017) Earnings due March 8th pre-market
In January the company raised guidance over prior estimates by about 20%, and the market largely yawned. Investors are not paying attention, and this is a great way to get on board the Precious Metals cycle with a low PE ratio, high growth, and a financial firm that is expanding product lines and locations both.- Dave
"We have been the largest service provider by customer trading volume on the Tianjin Precious Metals Exchange since 2012, and the largest service provider on the Guangdong Precious Metals Exchange since the fourth quarter of 2015. We commenced our operation on the Shanghai Gold Exchange in November 2015 and our customer trading volume has been growing rapidly since then… we expanded our operation to the Guangdong Precious Metals Exchange in August 2013 and our customer trading volume ranked, among all service providers, No. 7 in 2014, No. 3 in the first nine months of 2015 and No. 1 since the fourth quarter of 2015. Our customer trading volume on the Shanghai Gold Exchange has been growing rapidly since our recent commencement of operation on the exchange in November 2015."  From Corporate IR site 
This was an April 27th 2016 IPO of a Chinese precious metals exchange trading operation. Yintech was founded in 2011 and has grown substantially.  The Chinese have a centuries old love affair with precious metals. There are over 300 exchanges that deal in the trade of precious metals in China.  Yintech is the leader with only a 4% and growing market  share, but with lots of room to acquire other exchange trading firms and build a larger piece of the pie.
The company indicates in the original 2016 IPO prospectus that they plan to likely make selective acquisitions, and they made a large on in the 3rd quarter of 2016. They also are looking to expand into commodity trading markets as well.   They also added a new exchange in November 2015 which has increased trading volume dramatically.
Dramatic Growth: PE Ratio 5.6 stripping out cash per share with 65% recent YOY growth
For the third quarter of 2016, Yintech's customer trading volume was RMB835.1 billion (US$125.2 billion), a 486.9% increase compared to the third quarter of 2015. Yintech generated net commissions and fees of RMB700.7 million (US$105.1 million), a 223.9% increase compared to the third quarter of 2015.
So our view is this is a way to play both a Post IPO undiscovered stock, the precious metals bull market, and a China recovery all wrapped into a stock with a PE ratio of about 7.3x our estimate of 2017 earnings and more like 5-6x earnings when we take out the cash per share.
Fair value seems way above current levels, the stock appears undiscovered by investors at this time like MOMO was a year ago.
Trade Advice:
Max buy $18.30
Stop Loss $15.90 near closing
Upside $21 to test old highs and fair value is $25-$29 for 17%-50% range of gains depending on holding period