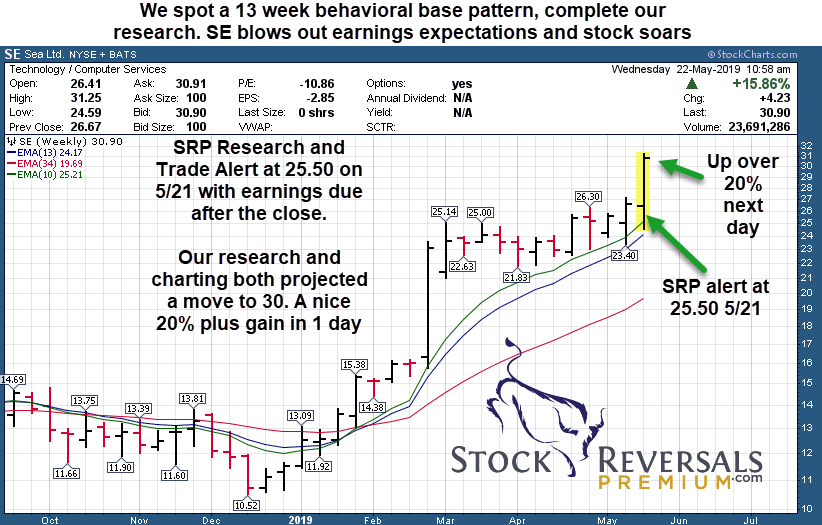 22 May

Swing Trade Alert- SE May 21 2019

This trade resulted in a 21% move up the following morning as they crushed the earnings estimates. Based on our research and the 13 week pattern both, we went long into the earnings report. We do not often do that, but in this case felt it was warranted- Dave, Chief Strategist

Chart movement below from the next trading day on 5/22, original Alert post is below this chart: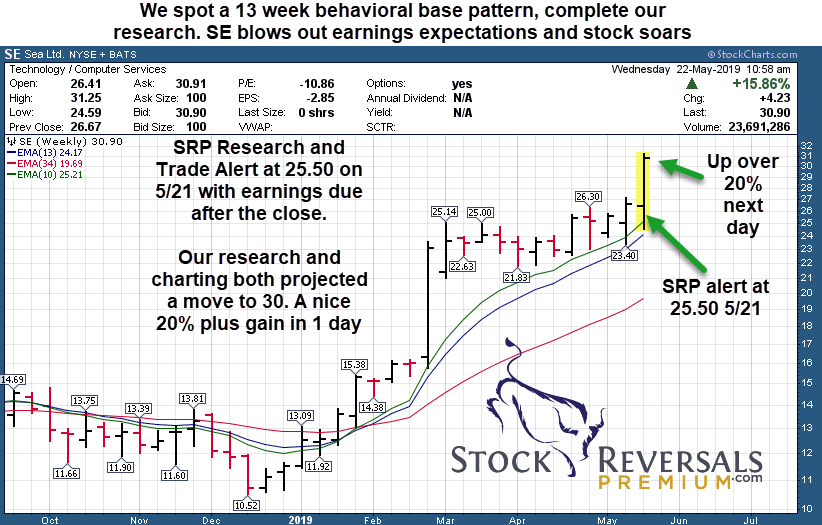 ---
SE- Sea Limited $25.59 area
12 Billion Market Cap
Trades 3 million shares a day
Singapore based Sea Limited engages in the digital entertainment, e-commerce, and digital financial service businesses in Taiwan, Thailand, Vietnam, Indonesia, and internationally. Shopee E commerce platform is exploding in revenue growth and a partnership for publishing of digital games with Tencent is paying fast dividends.
Earnings Results are due out tonight so if that makes you nervous skip this trade.  With a 13 week base though it looks ready to break out.
In the last quarter report the Revenue estimate was for 296 million and they came in at 389 million.
The company saw a sixfold increase in e-commerce as Shopee saw GMV, orders and adjusted revenue all rising sharply. Three years after launch, the platform has exceeded $10B in gross merchandise value.
They have beat the revenue estimates in 5 of the last 6 quarters.
That said, based on their momentum across their Asian E commerce and Gaming platforms, and conference call notes from the prior quarter earnings release, they should exceed consensus revenue of 435 million in my opinion.
13 week base usually sets up for a big move and this could run to all time highs on a good report tonight.
Trade Advice:
Max Buy 25.75 adding to 25
Stop 24.45 near closing
Target $30 on breakout if so