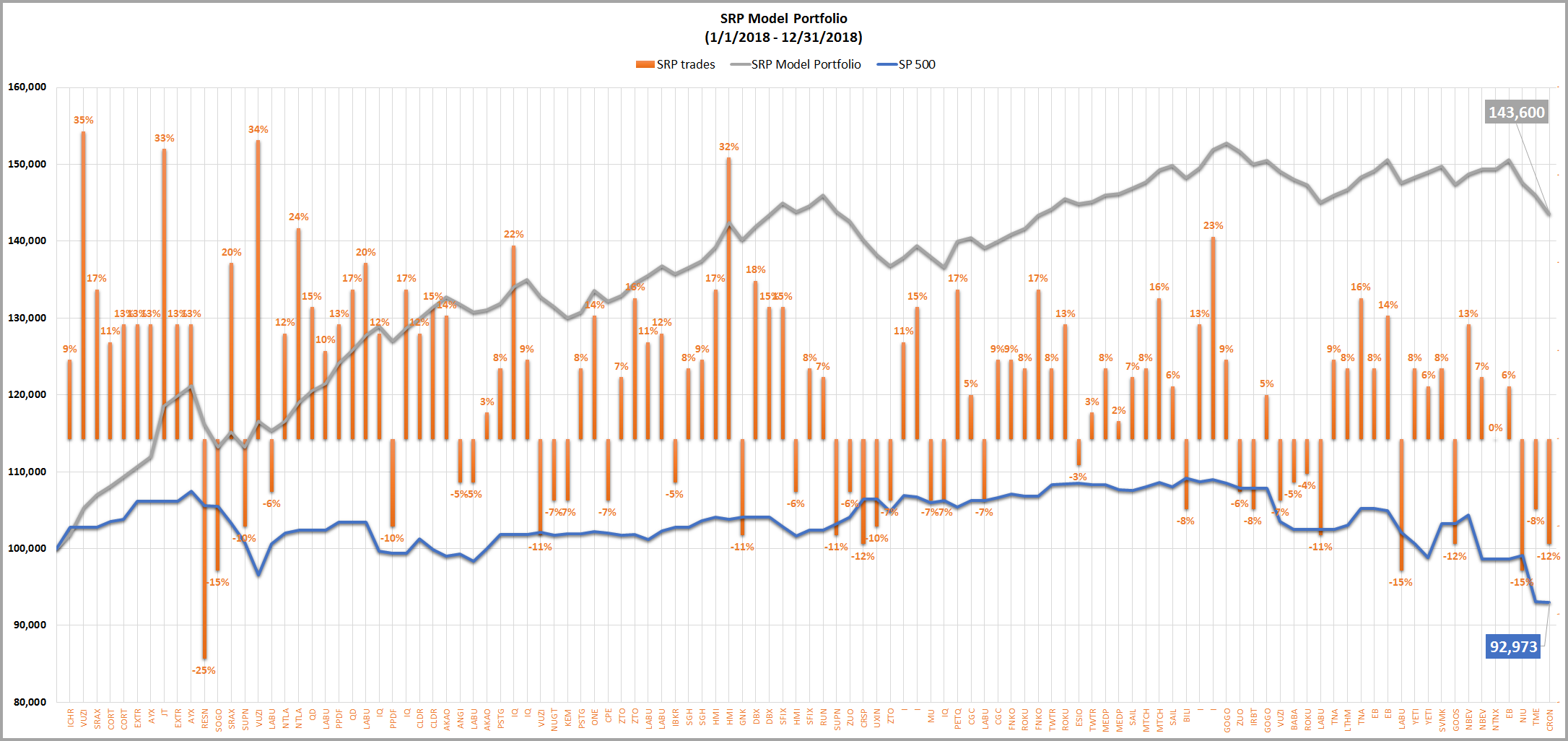 14 Jan

Full list of 2018 Closed out Trades
2018 Trades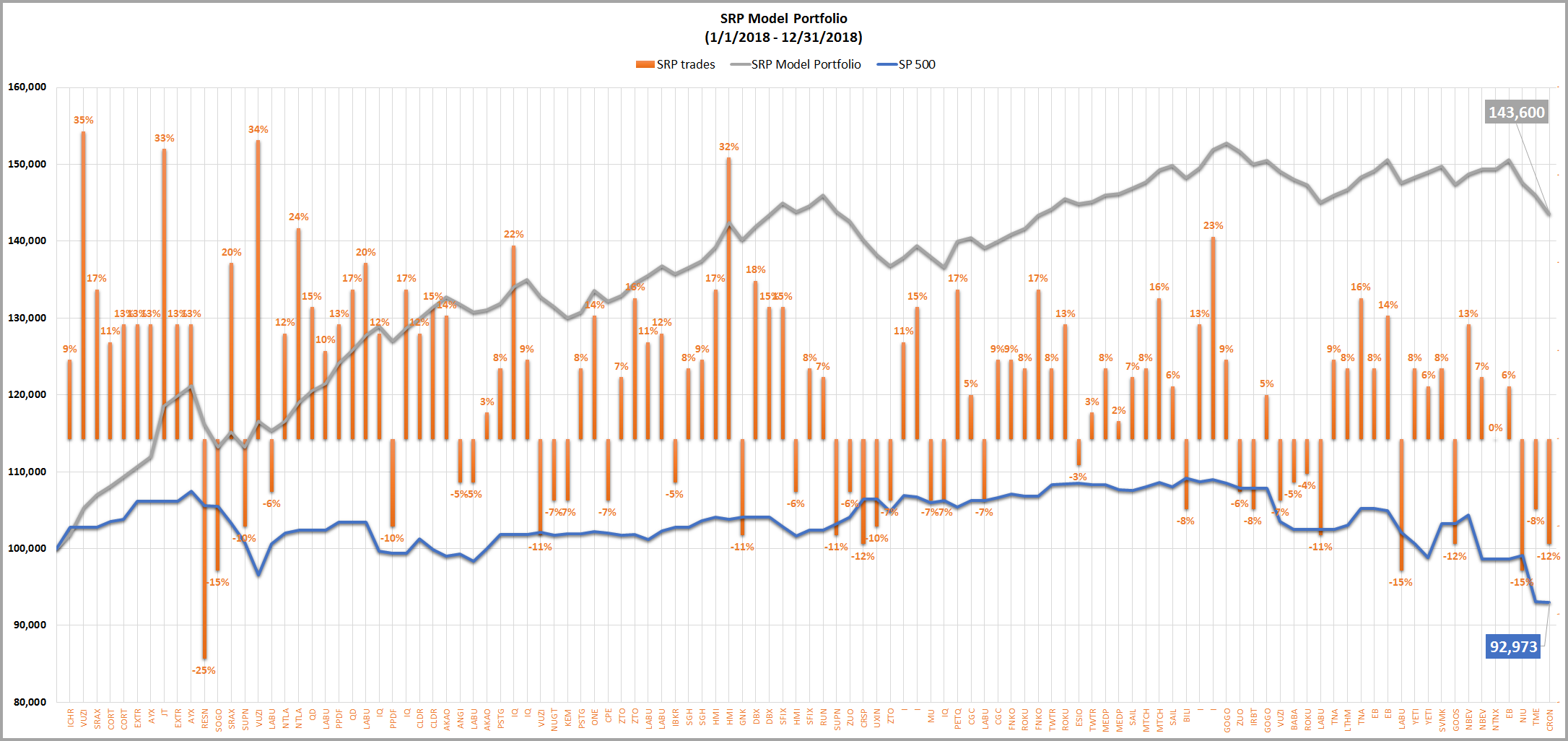 We often sell 1/2 of a position at a time as they move up in our favor. All of the trades below are based on average entry price and average sales price following an alert to buy or sell the position.
74 Winners 38 Losers in a Down Year with SP 500 down 6.7%
66% Win Ratio with Winner percentage gains much higher than average loser percentage loss.
12/27: Stopped out TME for 8% loss
12/28: Stopped out CRON for 12% Loss
12/13: Stopped out NIU for 15% Loss
12/10: Sold Final 1/2 NBEV for 7% Gains
12/10: Sold final 1/2 NTNX for Break Even plus
12/10: Sold Full EB for 6% plus avg gains
12/7:  Stopped out GOOS for 10-13% Loss
12/3:  Sold 1/2 NBEV for 10-16% Gains
11/30: Sold 1/2 SVMK for 8-9% Gains
11/20: Sold Final 1/2 YETI for 6% Gains
11/19: Sold 1/2 YETI for 7-9% Gains
11/15: Stopped out LABU for 15% loss
11/8: Sold Final 1/2 EB for 14% Gains
11/7: Sold Final 1/2 TNA for 16% Gains
11/7: Sold 1/2 EB for 8-9% Gains
11/6: Sold 1/2 LTHM for 7-9% Gains
11/1: Sold 1/2  TNA For 9-10% Gains
10/23 Week: Stopped out of BABA for 5% loss
10/23 Week: Stopped out ROKU for 3-5% loss intra-day stop
10/23 Week: Stopped out LABU at 62 near close for 10-13% Loss on avg
10/12: Stopped out VUZI for 7-8% Loss
10/8: Stopped out ZUO for 6% Loss
10/8: Stopped out IRBT for 8% Loss
10/8: Sold Final 1/2 GOGO for  5% gains
10/4: Sold 1/2 GOGO for 8-10% Gains
9/27: Sold Final 1/2 I for 23% gains
9/26: Sold 1/2 I for 13% Gains
9/24: Stopped out BILI for 8% loss
9/17: Sold final 1/2 SAIL for 5-7% Gains
9/13: Sold Final 1/2 MTCH for 16% Gains
9/11: Sold 1/2 MTCH for 8% gains
9/10: Sold 1/2 SAIL for 7-8% Gains
9/3: Stopped out Final 1/2 TWTR for 3% Loss
9/6: Sold Final 1/2 MEDP for 2% Gains (Stop was 58)
9/4: Sold 1/2 MEDP for 7-9% Gains
8/30: Stopped out ESIO for 3-4% Loss
8/28: Sold Final 1/2 ROKU for 13% Gains
8/27: Sold 1/2 TWTR for 8% Gains
8/23: Sold 1/2 ROKU for 8% Gains
8/23: Sold Final 1/2 FNKO for 15-18% Gains
8/21: Sold 1/2 FNKO for 8-10% Gains
8/17: Sold Final 1/2 CGC for 9-10% Gains
8/16: Sold 1/2 CGC for 5% gains
8/16: Stopped out LABU for 7% Loss
8/15: Sold PETQ for 16-19% Gains
8/14: Stopped out IQ for 7% Loss
8/10: Stopped out MU for 7% Loss
8/9: Sold Final 1/2 I for 15-16% Gains
8/7: Sold 1/2 I for 10-12% Gains
7/30: Stopped out ZTO for 7% Loss
7/25: Stopped out CRSP for 12% Loss
7/25: Stopped out UXIN for 10% Loss
7/9: Stopped out ZUO for 6-7% Loss
7/6: Stopped out SUPN for 10-12% Loss
7/5: Sold Final 1/2 SFIX for 8% Gains
7/5: Sold RUN for 7-8% Gains
6/25: Stopped out HMI for 5-7% Loss
6/21: Sold 1/2 SFIX for 15-16% Gains
6/14: Stopped out GNK for 11% Loss
6/14: Sold Final 1/2 DBX for 17-20% Gains
6/14: Sold 1/2 DBX for 14%-17% Gains
6/13: Sold Final 1/2 HMI for 30-35% Gains
6/11: Sold 1/2 HMI for 15-20% Gains
6/7: Sold Final 1/2 SGH for 8-11% Gains
6/5: Sold 1/2 SGH for 7-9% Gains
6/4: Stopped out IBKR for 5% Loss
6/1: Sold Final 1/2 LABU for 12% Gains
5/31: Sold 1/2 LABU for 10-12% Gains
5/30: Sold Final 1/2 ZTO For 15-17% gains
5/25: Sold 1/2 ZTO for 7-8% Gains
5/24: Stopped out CPE for 6-8% Loss
5/22: Stopped out KEM for 7% Loss
5/23: Sold ONE for 13-15% Gains in 24 hours
5/22: Sold final 1/2 PSTG for 7-9% Gains
5/17: Stopped out NUGT for 6-8% Loss
5/14: Stopped out VUZI for 10-12% Loss
5/10: Sold 1/2 PSTG for 8% Gains
5/10: Sold final 1/2 IQ for 20-25% Gains
5/10: Sold 1/2 IQ for 8-11% Gains
5/8: Sold final 1/2 AKAO for 2-4% Gains
5/3: Stopped out LABU for 5% Loss
5/1:  Sold ANGI for 5% Loss
4/30: Sold 1/2 AKAO for 14% Gains
4/21: Sold Final 1/2 CLDR for 14-17% Gains
4/18: Sold 1/2 CLDR for 12% Gains
4/13: Stopped out PPDF for 10% Loss
4/13: Sold Final 1/2 IQ for 17% Gains
4/12: Sold 1/2 IQ for 11-14% Gains
3/13: Sold Full PPDF for 13% Gains
3/13: Sold Final 1/2 QD for 17% Gains
3/13: Sold Final 1/2 LABU for 20% Gains
3/8: Sold Final 1/2 NTLA for 24% Gains
3/8: Sold 1/2 QD For 15% Gains
3/8: Sold 1/2 LABU for 10% Gains
3/7: Sold 1/2 NTLA for 10-14% gains
3/2: Stopped out LABU for 6% Loss if Conservative
2/8: Sold final 1/2 VUZI for 34% Gains
2/6: Stopped out SUPN for 10% loss
2/2- Stopped  out final 1/2 SRAX for 20% Loss (18% gain on front half)
2/1- Stopped out SOGO for 15% loss
1/31- Stopped out RESN for 25% Loss
1/26- Sold Final 1/2 AYX for 11-15% Gains
1/25- Sold 1/2 AYX for 11-15% Gains
1/25- Sold JT for 30-35% Gains on Full Position
1/25- Sold Final 1/2 EXTR for 13% Avg Gains
1/23- Sold 1/2 EXTR for 13% Avg Gains
1/16- Sold Final 1/ CORT for 12-15% Gains
1/11- Sold 1/2 CORT for 8-14% Gains
1/8- Sold ICHR for 9% Gains
1/8- Sold 1/2 VUZI for 33-38% Gains
1/8- Sold 1/2 XRAX for 13-20% Gains