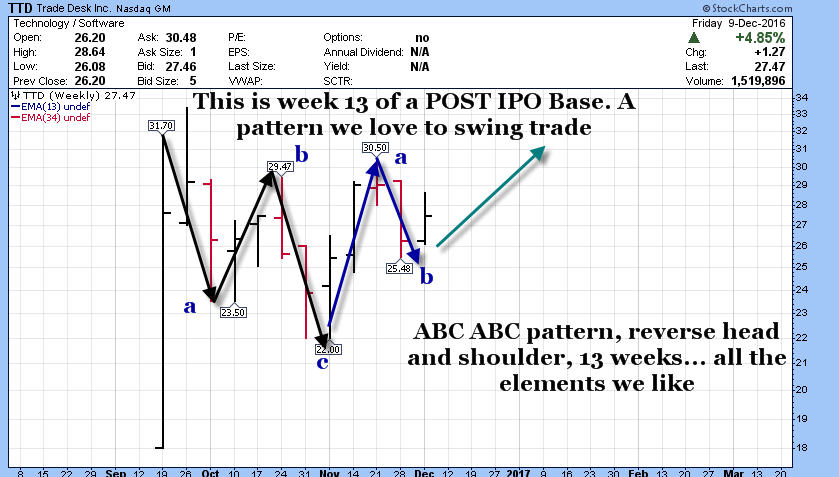 12 Dec

Dec 12th Swing Trade Alert- TTD- Post IPO Base

Editors Note: This stock rallied to $44 per share in March of 2017, 12 weeks later for over a 50% move to the upside
TTD- The Trade Desk $27.47 12/9 Close
Recent IPO, 52 week high $33
Ranked the 55th fastest growing company in recent Deloitte Technology Fast 500 list
Sold 5.4 Million shares at $18 in October, about 14% of the outstanding shares
1 Billion market cap, PE ratio about 25 with 45-50% growth in 2017 expected
TTD provides a real-time bidding platform, which enables advertising agencies to bid for and purchase multi-channel online ads.
A recent IPO in the "Online Advertising Management" area of the internet/e-commerce sector. This company helps businesses advertise with a platform on which they can send personalized messages to consumers in order to improve the efficiency of their promotional efforts. This direct to consumer advertising access model is very efficient and gives a high ROI to their customer base.
The first quarter as a public company came in strong with 3rd quarter sales being up 84% to $53.0 million.  Operating margins are 28% of sales. The company takes a cut of the value of advertising revenue from their customers of 15-20%. They are looking for $62 million in revenues in the 4th quarter, which would be up 45% year over year.  We suspect they are  being conservative here.
With 38 million shares o/s the stock trades at just over  4 x Price to Sales ratio.  As they say in their conference call transcript there is a 650 Billion opportunity to attack.  The Price to Earnings ratio is about 25x our estimate of 2017 profits but that may be low. Given the growth rate of likely 50%, the PE to Growth rate qualifies as reasonable given what the market is paying for other tech names.
We like the base pattern and the lack of interest from investors right now, which we think could change as we approach 4th quarter earnings results period if not sooner.  A nice POST IPO base pattern, with decent upside and reasonable downside risk in a strong growth sector of Technology.
This is week 13 of a Post IPO base, we have a nice ABC ABC pattern developing, a Reverse head and shoulder pattern, and investors have lost interest. Usually the best time to enter.
Trade Advice:
Max Entry 28.64 working in on dips if possible
Stop 25.50 Near Closing
Upside is $33-$34 for 19% from Max Entry