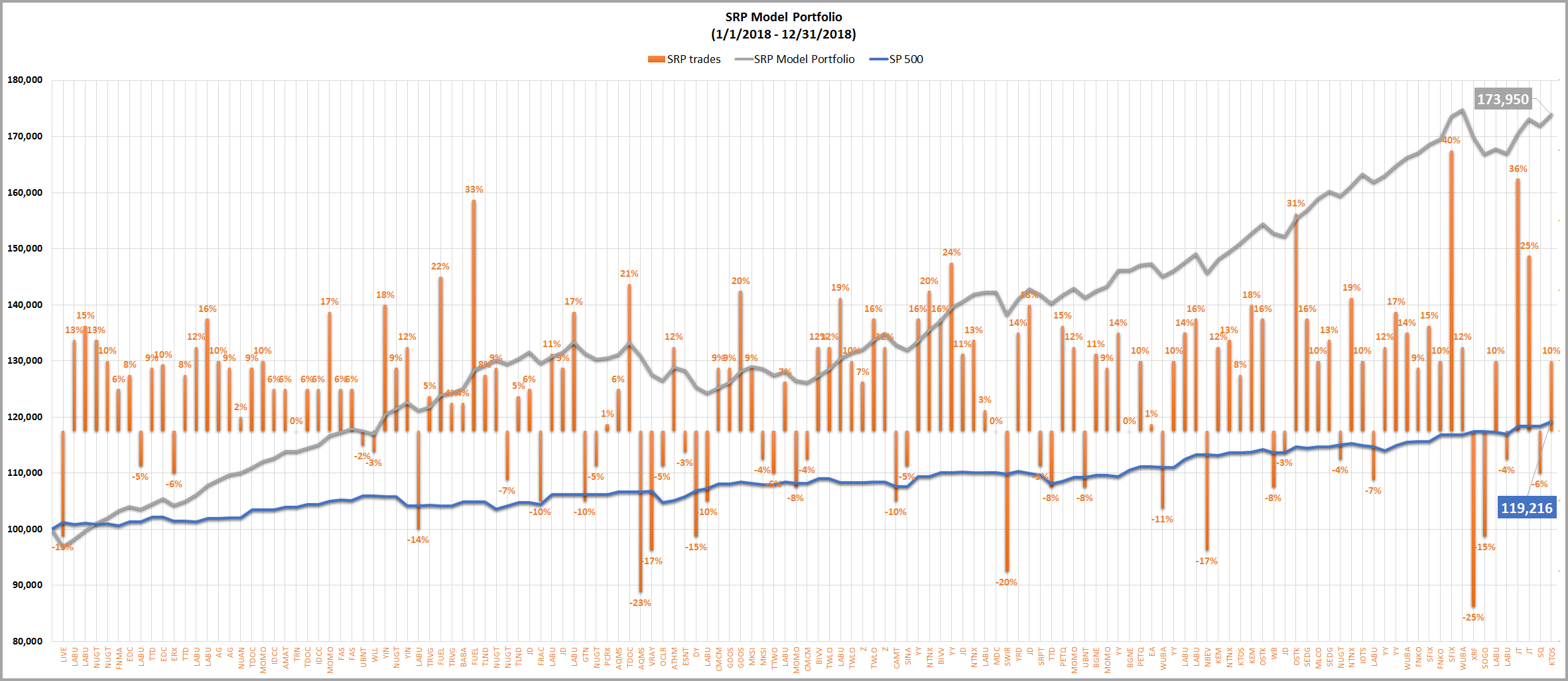 15 Jan

2017 Full List of Closed Trades- 75% Win Rate!

All 2017 Closed Trades, many our 1/2 size as we close 1/2 on the way up often.

This shows every trade we closed out via Alert with Text and Email to our Members in 2017. Our goal is to hit 70% of our trades for profits and we have done that since September 2013 inception: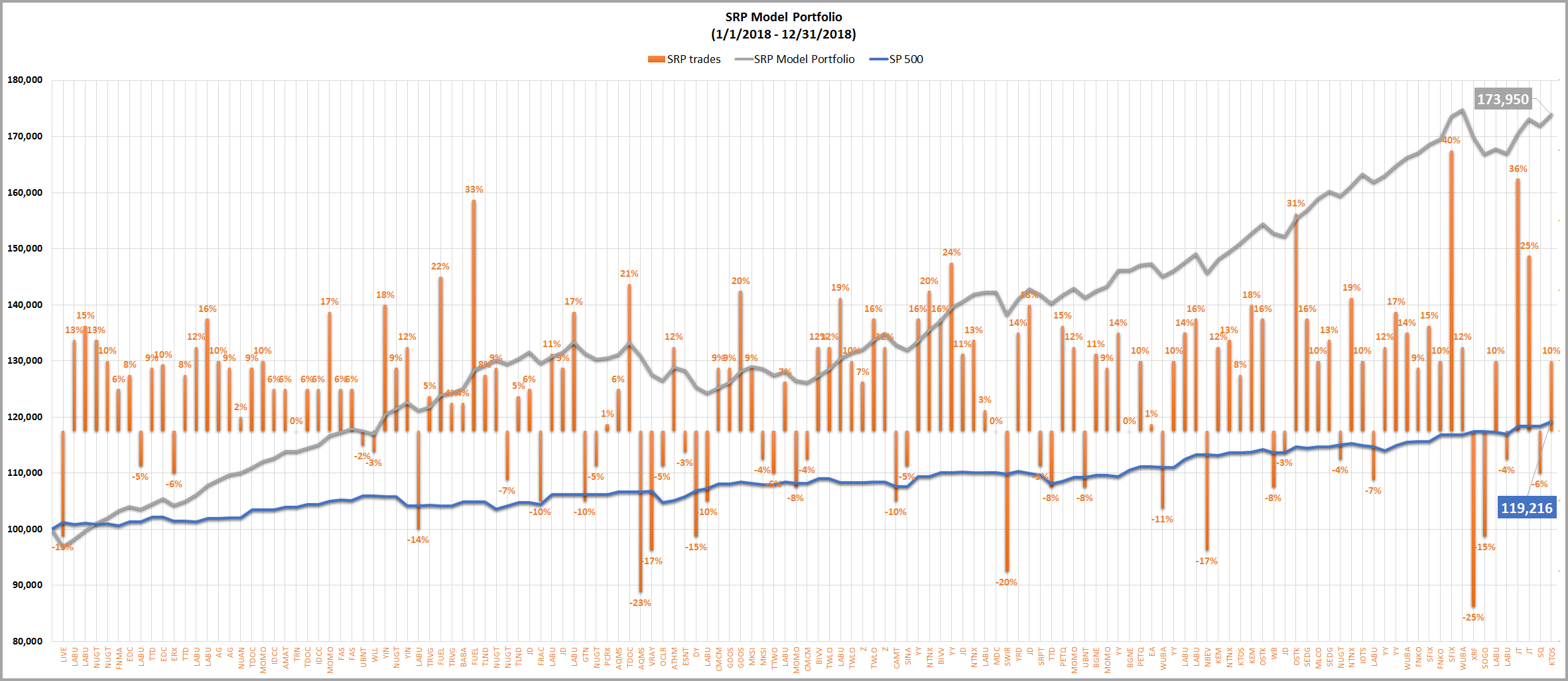 104 Winners  34 Losers for 75% Win Rate!
12/19- Sold KTOS for 8-13% Gains
12/13- Sold final 1/2 JT for 32-42% Gains
12/13- Sold 1/2 JT for 21-30% Gains
12/13- Stopped out SQ for 5-7% Loss
12/5- Stopped out 1/2 LABU for 4-5% Loss
12/4- Sold 1/2 LABU ETF for 10-11% Gains
12/1- Stopped out XRF for 25% Loss
12/1- Stopped out SOGO for 15% Loss
11/28- Sold Final 1/2 FNKO  for 7-14% Gains
11/28: Sold Final 1/2 SFIX for 40% Gains
11/28- Sold Final 1/2 WUBA for 12% Gains
11/27: Sold 1/2 FNKO for 5-14% Gains
11/27- Sold 1/2 SFIX for 14-16% Gains
11/21: Sold 1/2 WUBA for 14% Gains
11/16: Sold final 1/2 YY for 17% Gains
11/15: Sold 1/2 YY for 12% Gains
11/14: Stopped out LABU for 7-8% Loss
11/9: Sold Full IOTS for 7-12% Gains
11/8: Sold final 1/2 NTNX for 19% Gains
11/3: Stopped out NUGT ETF for 4% Loss
11/2: Sold Final 1/2 SEDG for 13% Gains
11/1: Sold MLCO for 10% Gains
10/31: Sold 1/2 SEDG for 16% Gains
10/27- Sold final 1/2 OSTK for 31% Gains
10/25- Stopped out WB for 8% Loss
10/25- Stopped out JD for 3% Loss
10/24- Sold 1/2 OSTK for 15-17%% Gains
10/17- Sold Final 1/2 KEM for 18% Gains
10/11- Sold 1/2 NTNX for 12-14% Gains
10/11- Sold All KTOS for 8-9% Gains
10/9-Sold 1/2 KEM for average 11-13% Gains
10/6- Sold 1/2 LABU for 16-17% Gains
10/6- Stopped out NBEV for 17% Loss
10/2- Sold 1/2 LABU ETF for 14% Gains
9/25 Stopped out WUBA for 11% Loss
9/25- Sold final 1/2 YY for 10% Gains
9/21- Sold EA For 1-2% Gains
9/15- Sold final 1/2 PETQ for 10% Gains
9/11- Stopped out BGNE for Break Even on final 1/2
9/8-Sold 1/2 YY for 14% Gains
9/6- Sold 1/2 BGNE for 11% Avg Gains
9/6- Sold Final 1/2 MOMO for 9% Gains
8/30- Sold 1/2 MOMO for 12% Gains in 2 days
8/30- Stopped out UBNT for 8% Loss
8/25- Sold 1/2 PETQ for 14-16% gains at 26.85 alert
8/17- Stopped out TTD for 8% Loss
8/15- Stopped out SRPT for 5% avg loss
8/8- Sold final 1/2 JD for 18% Gains
8/7- Sold YRD for 11-18% Gains
8/3- Stopped out SWIR for 20% Loss
8/2- Sold MDC for break even
7/27- Stopped out final 1/2 NTNX for 13% gains
7/27- Stopped out final 1/2 LABU for 2-4% Gains
7/26- Sold 1/2 JD for 11% Gains
7/25- Sold Final 1/2 BIVV for 16% Gains
7/25- Sold Final 1/2 YY for 24% Gains
7/18- Sold 1/2 NTNX for 20% Gains
7/17- Sold 1/2 YY for 15-17% Gains
6/27- Stopped out CAMT for 10% Loss
6/27- Stopped out SINA for 5% Loss
6/26- Sold Final 1/2 Z for 12% Gains
6/23- Sold 1/2 TWLO for 15-17% Avg Gains
6/21- Sold 1/2 TWLO for 10-11% Gains
6/21- Sold 1/2 Z for 7% Gains
6/20- Sold final 1/2 LABU for 19% Gains
6/19- Sold 1/2 BIVV for 12% Gains
6/19- Sold 1/2 TWLO for 12% Gains
6/15- Stopped out MOMO for 8% Loss
6/15- Stopped out CMCM final 1/2 for 4% loss
6/13- Sold 1/2 LABU for 7-8% Gains
6/12- Stopped out final 1/2 MKSI for 4% Loss
6/12- Stopped out TTWO for 6% Loss
6/8- Sold 1/2 MKSI for 8-10% Gains
6/2- Sold Final 1/2 GOOS for 20% Gains
6/1- Sold 1/2 CMCM for 8-10% Gains
6/1- Sold 1/2 GOOS for 8-10% Gains
5/30-Stopped out LABU ETF for 10% Loss on 1/2 position or 5% equivalent
5/24- Stopped out DY for 15% Loss
5/19- Stopped out ESNT at 35.90 for 3-4% Loss
5/18- Sold ATHM for 11-13% Gains near $42
5/17- Stopped out OCLR for 5% Loss
5/16- Stopped out VRAY for 15-20% Loss
5/10- Sold Final 1/2 TDOC for 20-23% Gains
5/10- Stopped out Final 1/2 AQMS for 23% Loss
5/8- Sold 1/2 AQMS for 5-8% Gains
5/4- Sold PCRX for Breakeven to 3% Gains
5/3- Stopped out GTN for 10% Loss
5/3- Stopped out NUGT for 4-7% Loss
5/1- Sold 1/2 LABU for 17% Gains
4/25- Sold 1/2 LABU for 11% Gains
4/25- Sold final 1/2 JD for 9% Gains
4/21- Stopped out FRAC for 10% Loss on Full Size
4/20- Sold Final 1/2 TLND for 5-6% Gains on Full Size
4/20- Sold 1/2 JD for 5-7% Gains on Full Size
4/18- Stopped out final 1/2 NUGT for 7% Loss on 1/2 size
4/13- Sold 1/2 NUGT for 7-11% Gains on 1/2 size
4/4- Sold 1/2 TLND for 7-9% Gains on Full Position Size
4/3- Sold Final 1/2 FUEL for 30-35% Gains on Full Position Size
3/28- Sold BABA for 3-5% Gains on Full Position Size
3/24- Sold 1/2 FUEL for 20-24% Gains on Full Position Size
3/24- Sold Final 1/2 TRVG for 3-5% Gains
3/23- Sold 1/2 TRVG for 5-6% Gains
3/21- Stopped out Final 1/2 YIN for final 12% Gains
3/21- Stopped out for 14% Loss on LABU 5% Position Size
3/16- Sold 1/2 YIN for 15-22% Gains on 10% Position Size
3/16- Sold NUGT for 8-10% Gains on 5% Position Size
3/2- Sold UBNT for 2% Loss
3/2- Sold WLL for 3% Loss
2/28- Sold Final 1/2 FAS ETF for 6% Gains
2/24- Sold 1/2 FAS ETF for 6% gains
2/22- Sold Final 1/2 MOMO for 17% Gains
2/15- Sold Final 1/2 TDOC for 6% Gains
2/15- Sold Final 1/2 IDCC for 6% Gains
2/14- Sold AMAT for 6% Gains on 10% Position Size
2/14- Sold TRN for Break Even on 10% Position Size
2/13- Sold 1/2 TDOC For 8-11% Gains on 10% Position Size
2/13- Sold 1/2 MOMO for 10% Gains on 10% Position Size
2/13- Sold 1/2 IDCC for 6% Gains on 10% Position Size
2/8- Sold 1/2 Final AG for 9% Avg Gains on 10% Position Size
2/8- Sold NUAN for 2-3% Gains on 10% Position Size
2/7- Sold 1/2 AG for 10% Avg Gains on 10% Position Size
2/6- Sold 1/2 LABU for 16% Gains on 5% Position Size
2/1- Sold 1/2 LABU for 12% Avg Gains on 5% Position Size
1/30- Stopped out ERX ETF for 6% loss on 1/2 size position (3% equivalent loss)
1/30 Sold Final 1/2 TTD for 8% Gains on Full Position Size
1/25- Sold 1/2 TTD for 9% Gains on Full Position Size
1/25- Sold final 1/2 EDC ETF for 9.5% Gains
1/24- Sold 1/2 EDC ETF for 8% Gains
1/24/19- Stopped out LABU initial 5% entry size at $34 for 4-5% loss, re-entered at 35.09 same day
1/19- Sold FNMA for 5-7% Gains on 5% Position
1/18- Sold 1/2 NUGT for 8-11% Gains to close out
1/17- Sold 1/2 NUGT for 13% Gains on 5% Position Size
1/11- Sold Final 1/2 LABU for 15% Gains on Full Position Size
1/9- Sold 1/2 LABU for 12-14% Gains on Full Position Size (2 days)
1/7- Stopped out LIVE for 15% Loss on 1/2 Size Position (7.5% Equivalent)